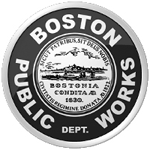 Trash collection in Boston is done by private contractors. The city puts trash collection out to bid, and
companies make proposals for trash collection. For many years now the City has continued the current contract which has kept the current company and trash pickup procedures in place for many years now.
In 2014, the contract for city trash pick-up is going out to bid. And the city wants your input on trash collection.
We all love to talk about trash. Now the city actually wants your opinion. It's time to think outside the box and bring your ideas on trash collection to them.
First, take this on-line survey.
It asks some basic question son trash and trash collection for the city.
Second, attend a trash meeting.
On Wednesday, Oct 9th, 6pm at the Boston Public Library (Copley Square). This will be an open forum to discuss issues with the current system, and to see ideas of what we the citizens would want in a new contract. Time to put on your thinking caps and bring your ideas! Want more recycling? Compost pick-up? better collection hours? This is your time to speak up.
For more information,
please see this city page
. It has an advanced copy of the presentation you can see, as well as dates of other meetings if you can't make the 9th.